GHKKPM: Virat smashed Pakhi request gets Sayi closer (Future Story)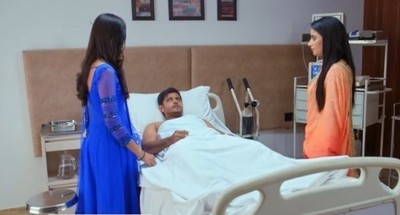 Ghum Hai Kisi Ke Pyaar Mein: Pakhi stopped Sayi from getting closer to Virat, creates mess
Ghum Hai Kisi Ke Pyaar Mein is Indian tv drama which telecasted on Star Plus, where its upcoming track of the show will bring much drama and suspense in the show.
As per latest track of show Virat is on death bed where Sayi rushes to meet him in the hospital.
While at same Pakhi is creating much havoc and wanted Sanyi to leave place and bad mouths her over same.
Sayi and Virat closeness ahead, Pakhi irked
However where further Sayi meet with Virat and Pakhi gets much irked with all this and wanted Virat to throw Sayi out of room.
Virat refused Pakhi all requests and gets much closer to Sayi where Sayi gets mesmerized with all this.
What will be Pakhi further reaction seeing Virat love for Sai?
Stay tuned with us for more exciting updates and upcoming twists in the show.
Latest Ghum Hai Kisi Ke Pyaar Mein Updates