Sasural Simar Ka 2: Geetanjali announces Vivaan Simar's wedding (Upcoming Episode)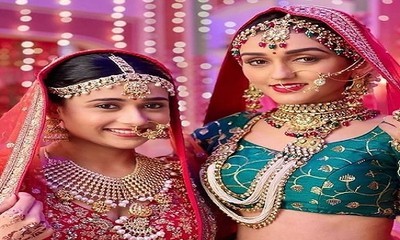 Sasural Simar Ka 2: Geetanjali announces Vivaan Simar's wedding
Colors popular show Sasural Simar Ka 2 is gearing up for an amazing twist in the storyline.
Geetanjali Devi breaks Reema and Aarav's wedding alliance shocking everyone to the core.
Simar convinces Geetanjali when she puts a shocking condition before the Narayan's.
Geetanjali asks Simar's hand for Vivaan when the family agrees.
Though Geetanjali smartly fixed Vivaan and Simar's wedding, Geetanjali very well knows that Simar is destined to marry Aarav.
Aarav and Simar to get married
Interestingly the story takes a u-turn on the wedding day.
How Simar will get married to Aarav and how Reema will get married to Vivaan,
A lot is about to happen in Oswals wedding mandap.
Stay tuned to the entertainment news website Serialgossip.com for more updates and the latest news of top TV shows.
Latest Sasural Simar Ka 2 Updates