Mehndi Hai Rachne Wali: Raghav keeps Sulochna at gunpoint (Upcoming Episode)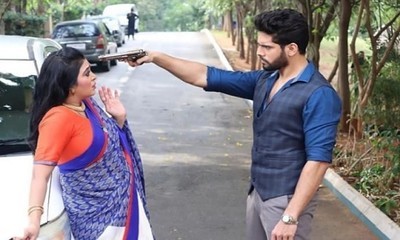 Mehndi Hai Rachne Wali: Raghav keeps Sulochna at gun point
Star plus amazing TV show Mehndi Hai Rachne Wali is looking forward to some intense drama in the upcoming episode.
Raghav is currently at a tight spot after Vijay and the Deshmukhs blame him for trapping Vijay in the theft case.
Pallavi takes a strong stand for Raghav and refuses to accept any blame on him.
Further when Farhad and Raghav begin the investigation, finally they get their hands on Sulochna.
Sulochna turns out mere enemy, not real
So, Raghav confronts Sulochna and without thinking for once keeps her at gunpoint.
Raghav and Sulochna's major confrontation turns out riveting but in actuality, Sulochna is not the main mastermind.
So, who is the real enemy and will Raghav find him is worth watching next in the storyline.
Stay up to date with Serialgossip.com for more entertainment news and TV serial twists.
Latest Mehndi Hai Rachne Wali Updates