Sasural Simar Ka 2: Reema ruined Aarav bouquet proposal for Choti Simar (Future Story)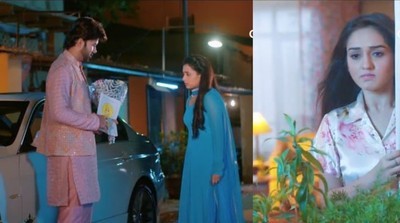 Sasural Simar Ka 2: Aarav gestures of apology for Choti Simar, Reema devilish avatar
Sasural Simar Ka 2 is Indian tv drama which telecasted on Colors Tv, where its upcoming track of the show will bring much drama in Simar and Aarav life.
As per latest track of the show Simar confessed Aarav about innocence of Choti Simar and about her sacrifices where Aarav gets moved with all this.
Where further, Aarav called Choti Simar to meet her and put apology proposal forth her Choti Simar.
Reema provoked Choti Simar to humiliate and leave Aarav
However where further Reema provoked Choti Simar and wanted him to humiliate Aarav so that he can never text or call back Choti Simar.
Choti Simar did same and hurt Aarav left the place but at same Choti Simar gets broken that how can do this and gets emotional.
It would be dramatic to see what will happen next in this show.
Stay tuned with us for more exciting updates and upcoming twists in the show.
Latest Sasural Simar Ka 2 Updates