Anupama: Bapuji divide Shah House Vanraj Dolly and Anupama (Upcoming Twist)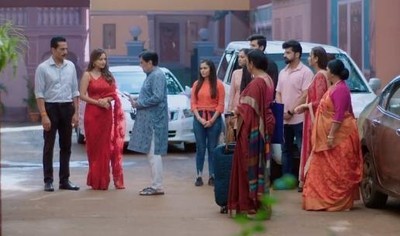 Anupama: Bapuji divide Shah House Vanraj Dolly and Anupama
The upcoming episode of Star Plus popular serial Anupama will showcase an interesting twist and turn.

It was earlier seen that Vanraj and Kavya are married now where Vanraj and Kavya has to stay together in Shah House.
Anupama has recovered and hence they move back to Ahmedabad.
Here before making Vanraj Kavya's entry in house Bapuji stops everyone and gives Vanraj his wedding gift.
Bapuji declares that he has made three parts of Shah House one for Vanraj one for Dolly and third part for Anupama.
Kavya furious Anupama part of Shah family
Anupama does not want anything but Bapuji forcefully gives her.
Kavya turns furious as Anupama is still part of Shah family and gets insecure.

It would be interesting to see what happens next on the show.

Stay tuned to popular entertainment website serialgossip.com
Latest Anupama Updates