Sasural Simar Ka 2: Simar turns bride to shake Oswal's foundation (Upcoming Episode)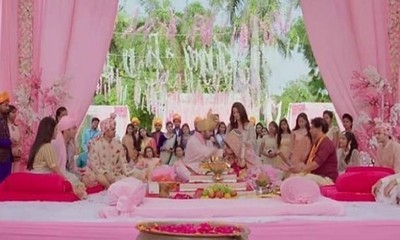 Sasural Simar Ka 2: Simar turns bride to shake Oswal's foundation
Colors daily soap opera Sasural Simar Ka 2 will bring a huge storm in the Oswal family in the upcoming twist episode.
Currently we are witnessing Aarav and Reema's wedding day.
However, before the wedding rituals could begin, Reema makes Simar as bride and elopes to participate in the Miss India contest.
Simar becomes for 2 hours as after 2 hours Reema will return.
Unfortunately, Reema fails and Simar is brought to the wedding mandap under the veil.
Aarav and Simar start wedding rituals
Simar turns the bride and finally sits with Aarav to start the wedding rituals.
Though Simar Bharadwaj knows the truth, she still keeps quiet because it is about Oswal's dignity while Simar who only tried to help Reema herself fell into a huge mess.
So how Simar's marriage with Aarav will shake the foundation of Oswal Family and how will Geetanjali react to this?
Make sure you follow us at SerialGossip.com so you don't miss the next big twists.
Latest Sasural Simar Ka 2 Updates