Ghum Hai Kisi Ke Pyaar Mein: When Bhavani and Sayi swapped role (Latest News)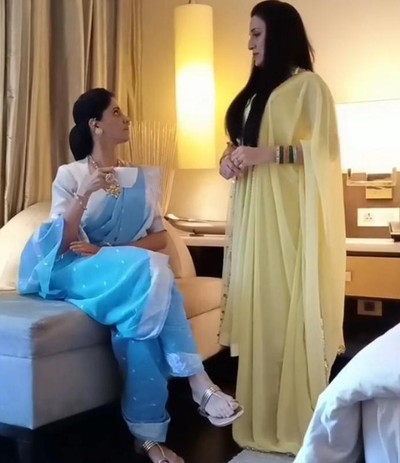 Ghum Hai Kisi Ke Pyaar Mein: When Bhavani and Sayi swapped role
The upcoming episode of Star Plus popular serial Anupama will showcase an interesting twist and turn.

Just for fun recently Bhavani Kaku and Sayi swapped their role and have shared on social media.
Bhavani is seen wearing Yellow dress just like Sayi and on the other side Sayi is seen wearing Kaku's Blue sare in Maharashtrian style.
In swapped roles Sayi is ready to go to college when Bhavani Kaku calls Aye Jungli Mulgi and asks her the difference between Paneer Tikka and Paneer Masala.
Bhavani asks Sayi to stop her studies and asks her to concentrate in Rasoi.
Bhavani and Sayi's performed brilliantly in new role
Both Bhavani and Sayi looks beautiful ad perform their swapped role quite well.
Coming back to serial Bhavani Kaku does not leave a chance to taunt Sayi and make her life hell but Sayi makes sure she gives fitting reply to Kaku.

It would be interesting to see what happens next on the show.

Stay tuned to popular entertainment website serialgossip.com
Latest Ghum Hai Kisi Ke Pyaar Mein Updates