Pandya Store: Rishita finally earns respect in Shiva Krish's eyes (Upcoming Episode)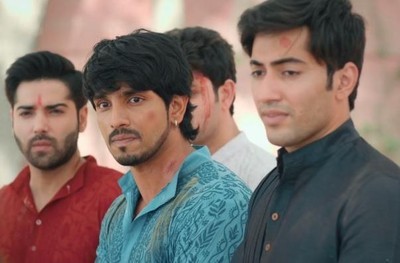 Pandya Store: Shiva Krish calls Rishita Bhabhi holding respect in heart
The upcoming episode of Star Plus popular serial Pandya Store will showcase an interesting twist and turn.

It was earlier seen that Shiva and Krish used to hate Rishita as she always used to make fun of Pandya family unity.
Furthermore Rishita always used to insult Gautam Dhara Shiva Raavi Krish each and every member of family.
Hence Shiva and Krish never used to respect Rishita.
However Gautam and Dhara always wanted Shiva Krish to respect Rishita and call her Bhabhi but in vain.
Gautam Dhara's dream fulfilled
Shiva Krish decides to exact revenge with Rishita but their master plan backfired and they had to face severe punishment from Dhara.
Fortunately when Shiva and Krish were about to die Rishita was one who saved their life and loved them.
Shiva and Krish finally started respecting Rishita and calls her Bhabhi proudly.
It would be interesting to see what happens next on the show.

Stay tuned to popular entertainment website serialgossip.com
Latest Pandya Store Updates