GHKKPM: Pakhi eavesdrop to ruin Virat love plan for Sayi (Upcoming Episode)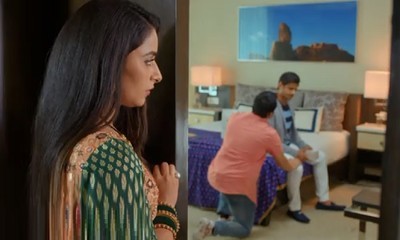 Ghum Hai Kisi Ke Pyaar Mein (GHKKPM): Pakhi eavesdrop to ruin Virat love plan for Sayi
Star Plus popular TV show Ghum Hai Kisi Ke Pyaar Mein is looking forward to some amazing twists and turns in the storyline.
Because Sayi left Virat and shifted to Pulkit's house for a night to spend some time with Harini and Devyani, a lot is going to happen in the Chavan house.
Sunny brings Vada pav for Virat when Virat misses Sayi and thinks if she ate the breakfast or not.
Just when Sunny sees Virat's concern for Sayi, he makes Virat realize that Sayi is being affected by his closeness to Pakhi because she is in love with him.
Here Pakhi is eavesdropping on Virat and Sunny's conversation and thus turns more revengeful against Sayi knowing her feelings for Virat.
Virat and Sayi to face more troubles
Pakhi is super pissed off hearing Virat planning to bring Sayi back and to convince her.
While Virat makes his plan for Sayi, will Pakhi let them mend their relationship or she will worse the scenario?
Stay tuned to entertainment news website Serialgossip.com for more updates and latest news of top TV shows.
Latest Ghum Hai Kisi Ke Pyaar Mein Updates