SSA 2: Aarav gives new wings to Simar dream job Gitanjali irked (Upcoming Twist)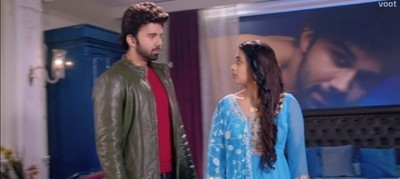 Sasural Simar Ka 2: Aarav and Simar flourishes their love in unconventional way
Sasural Simar Ka 2 is interesting show telecasted on Colors Tv which is up for some interesting twists and turns ahead where Simar and Aarav decided to do post marital affairs for one month.
Latest track of the show Simar is having big passion for singing where some days back Simar gave auditions for Radio Jockey's singing.
However where further, fortunately Simar gets the job and gets selected in singing position in Radio field.
Owing to Gitanjali drama, Aarav was not ready to Simar's singing career where later Aarav accepts this for Simar happiness.
Gitanjali's anger is bringing Aarav and Simar closer to each other
Where further, Gitanjali is getting hints that something is cooking amid Aarav and Simar where gets suspicious.
On other side, Aarav hikes Simar dream of singing and wanted her to go ahead with her passion.
It would be interesting to see what will be next Twist what will Simar and Aarav's further decision for their relation.
To catch stay tuned with us for more updates and exciting twists in other shows too.
Latest Sasural Simar Ka 2 Updates