Sasural Simar Ka 2: Reema attempt of suicide Vivaan extends new support (Upcoming Story)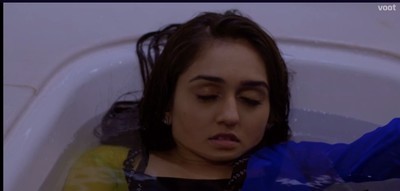 Sasural Simar Ka 2: Reema attempt of suicide Vivaan extends new support
Sasural Simar Ka 2 is interesting show telecasted on Colors Tv which is up for some interesting twists and turns ahead where Vivaan Is still supporting Reema after all the drama and her betrayal.
Latest track is showing how Reema is down in mouth and woeful situation where her Reema is left with no option.
Reema last hope who is Vivaan is also getting married with Kajal where Reema is totally dejected and depressed.
Later Reeema gives up on her life and attempted suicide where new twist and drama is there with new havoc drama.
Vivaan in action to safeguard Reema from death trap
However where further major twist is there where Vivaan gets baffled eyeing Reema in such situation and takes her to hospital to safeguard her.
Later, Vivaan is in major dilemma as his heart did not wanted to leave Reema alone in such situation and duo shares special moment with each other.
It would be interesting to see what will be next Twist what will be Reema and Vivaan further decision for their relation.
To catch stay tuned with us for more updates and exciting twists in other shows too.
Latest Sasural Simar Ka 2 Updates