GHKKPM: Virat bugged with Pakhi Sayi mutual understanding (Upcoming Story)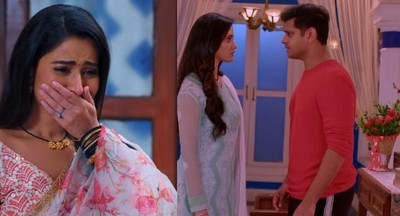 Ghum Hai Kisi Ke Pyaar Mein (GHKKPM): Pakhi weep bitterly wants Sayi to support her against Virat
The upcoming episode of Star Plus popular serial Ghum Hai Kisi Ke Pyaar Mein will showcase an interesting twist and turn.
It was earlier seen that Pakhi eavesdrop Virat Sayi's talks where Sayi comes to know about Pakhi's presence.
Sayi gets worried for Pakhi where she questions her health.
Sayi shows concern for Pakhi but not Virat this time as Virat humiliates her.
Poor Pakhi breakdown as she feels Virat does not love her but loves only Sayi.
Virat bugged with Pakhi Sayi understanding
Hence Pakhi alerts Sayi to not fall for Virat as he has already cheated one person and now he is into next one.
Sayi understands what Pakhi wants to say leaving Virat bugged.

It would be interesting to see what happens next on the show.

Stay tuned to serialgossip.com for more updates.
Latest Ghum Hai Kisi Ke Pyaar Mein Updates