Ghum Hai Kisikey Ke Pyaar Mein: Pakhi alleged Sayi for taking Drugs (Upcoming Twist)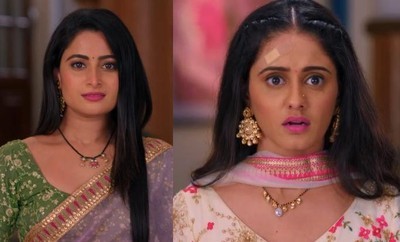 Ghum Hai Kisi Ke Pyaar Mein: Pakhi alleged Sayi for taking Drugs
The upcoming episode of Star Plus popular serial Ghum Hai Kisi Ke Pyaar Mein will showcase an interesting twist and turn.
It was earlier seen that Sayi goes missing with a sum of 50000 rupees which worries the entire Chavhan Family.
Paki as usual takes advantage of the same and starts blaming Sayi who is gone to a party with her college friends.
Late but Sayi returns home where Pakhi asks Bhavani Kaku to get Sayi's mouth and eyes checked as she might have consumed drugs along with partying with friends.
Sayi shocked with Pakhi's nonsense
Sayi is shocked as well as Virat and Ashwini as Pakhi goes on talking all nonsense.
Let's see what happens next on the show when Pakhi comes to know about why Sayi went missing not for drugs but for a huge surprise.

It would be interesting to see what happens next in Star Plus Ghum Hai Kisi Ke Pyaar Mein.

Stay tuned to serialgossip.com for more updates.
Latest Ghum Hai Kisi Ke Pyaar Mein Updates