GHKKPM: Sayi pulls Ninad to unwrap the mystery box (Upcoming Episode)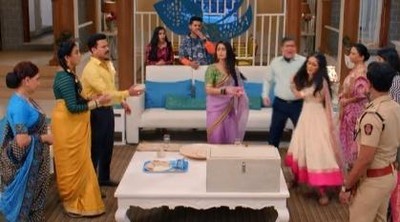 Ghum Hai Kisi Ke Pyaar Mein (GHKKPM): Sayi pulls Ninad to unwrap the mystery box
The upcoming episode of Star Plus popular serial Ghum Hai Kisi Ke Pyaar Mein will showcase an interesting twist and turn.
It was earlier seen that Sayi goes missing with money only to a get a huge surprise for father Ninad.
Sayi takes all her scholarship money and borrows 10000 rupees from Virat only to buy a harmonium.
Sayi reaches hom late where the entire family believes that she is gone partying with friends.
While Sayi was busy arranging for a harmonium for Ninad who left his dream unfullfilled.
Ninad's reaction must wanted to see by Sayi
Sayi gets the harmonium in a big box where she pulls Ninad and asks him to unwrap the mystery box.
Let's see how Ninad reacts post seeing harmonium gifted to him by Sayi.

It would be interesting to see what happens next on the show.

Stay tuned to serialgossip.com for more updates.
Latest Ghum Hai Kisi Ke Pyaar Mein Updates