Mehndi Hai Rachne Wali: Raghav maddened by Mandar spoiling his date (Upcoming Twist)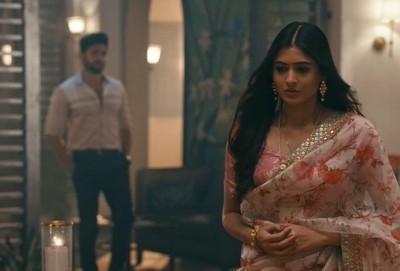 Mehndi Hai Rachne Wali: Raghav maddened by Mandar spoiling his date
The upcoming episode of Mehndi Hai Rachne Wali is going to witness high voltage drama in the show.
Pallavi is having thoughts about Mandar due to which her love confession to Raghav remains unsaid.
Raghav decides to apologize Pallavi and plans a big surprise for her.
Meanwhile, Pallavi enters the room and finds it decorated with balloons and roses.
Raghav tells Pallavi that no one will disturb them now and he apologizes her.
Pallavi shocked to see Mandar Raghav angered
Raghav asks Pallavi to finish what she was confessing in the hospital but unfortunately Mandar is seen at the doorstep.
Eventually, Mandar escapes before Raghav could see him leaving Pallavi in shock.
Pallavi decides to find out Mandar along with Krishna.
It will be interesting to see what happens next in the show. Stay tuned for more updates at SerialGossip.com
Latest Mehndi Hai Rachne Wali Updates