Yeh Rishta Kya Kelata Hai: Dadi sacrifice Goenka family pick new house shocked Naira (Upcoming Episode)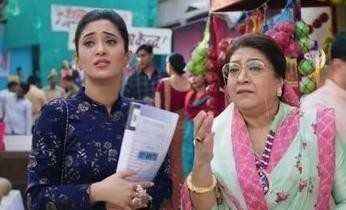 Yeh Rishta Kya Kelata Hai: Dadi (Swati Chitnis) sacrifice Goenka family pick new house shocked Naira (Shivangi Joshi)
The upcoming episode of Star Plus longest running serial Yeh Rishta Kya Kehlata Hai will showcase interesting twist and turn.
As per the recent track of Yeh Rishta Kya Kehlata Hai it is seen that Kartik is behind bars which leaves entire Goenka family stressed.
No one from Goenka's can see Kartik away from them.
Furthermore Dadi is the one who loves Kartik a lot being heir of her family.
On the other side Naira digs out the truth but stops Naira from revealing the big truth to the family.
However Dadi cannot take any more and takes a big step to sacrifice her Goenka family and Mansion.
Dadi's new step shocks Naira misses Kartik (Mohsin Khan)
Dadi leaves the house and picks to stay in Ashram.
Naira gets shocked to see Dadi in ashram and tries to convince her to return back home.
Will Dadi agree to Naira and come back home?
Wait and watch for upcoming story in Yeh Rishta Kya Kehlata Hai.
Latest Yeh Rishta Kya Kehlata Hai Updates