Ghum Hai Kisi Ke Pyar Mein: Pakhi's trap to blow up Sayi's love life (Upcoming Twist)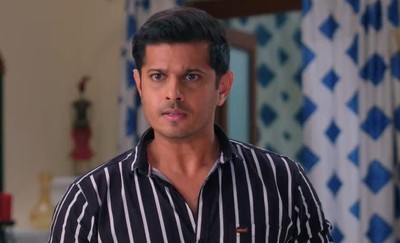 Ghum Hai Kisi Ke Pyar Mein: Pakhi's trap to blow up Sayi's love life
Star Plus most popular show Ghum Hai Kisi Ke Pyar Mein never fails to impress the audience with its exciting twist and turn.
In the upcoming episode it will be seen that Pakhi takes advantage of Ajinkya to trap Sayi.
Ajinkya comes to meet Sayi to give her notes while Pakhi asks him to go and give the papers to Sayi himself.
Furthermore, Ajinkya meets Sayi and hands over the notes to her when Sayi starts coughing and Ajinkya runs to take water for her.
Virat caught Sayi Ajinkya in bedroom
Pakhi informs Virat that Ajinkya has come to meet Sayi and he is in her room.
Virat runs to see Sayi and he not only misunderstands the situation but also yells at Ajinkya for entering Sayi's room.
Do not miss the next big twist, so make sure to read the new updates on SerialGossip.com
Latest Ghum Hai Kisi Ke Pyaar Mein Updates