Yeh Rishtey Hai Pyaar Ke News 13 February: Abeer Kunal's Gulabo disguise to win Kuhu (Latest Trending News)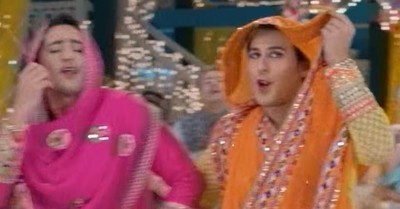 Yeh Rishtey Hai Pyaar Ke News 13 February: Abeer Kunal's Gulabo disguise to win Kuhu
The upcoming episode of Star Plus Hindi serial Yeh Rishtey Hai Pyaar Ke will showcase new twist in the storyline.
As per the current track, Abeer comes to know that Kuhu and Kunal are getting divorced.
Abeer realises his mistake of forcing Kunal into loveless marriage.
Abeer thus promises Kunal to get him divorced with Kuhu soon and free him from forced relationship.
Kunal hence realises his feelings where he confesses that he loves Kuhu and does not want to get separated.
Further Kunal worries that its very late now.
Kunal to confess love for Kuhu in unique style
Abeer supports Kunal and gets Golabo disguise where they make their entry in Maheshwari house to confess love for Kuhu.
Will Kunal be able to successfully confess love for Kuhu before it gets late?
Stay tuned to serialgossip.com for further development and latest news on Yeh Rishtey Hai Pyaar Ke.
Latest Yeh Rishtey Hai Pyaar Ke Updates