Yeh Hai Chahatein News 13 February: Prisha hanged to death Rudraksh Saaransh's new paradise (Latest Trending News)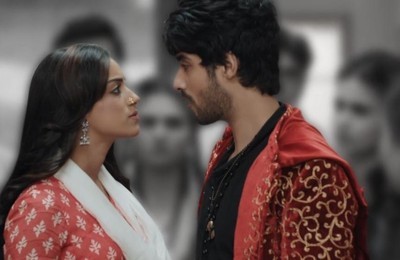 Yeh Hai Chahatein News 13 February: Prisha hanged to death Rudraksh Saaransh's new paradise
The upcoming episode of Star Plus serial Yeh Hai Chahatein will showcase interesting twist and turn in the on-going series.
As per the track, Prisha is seen giving Saaransh's custody to Rudraksh.
Saaransh is happy to live with Rudraksh as Rudraksh is his idol.
Saaransh hugs Rudraksh where he feels like Rajeev hugged him.
Rudraksh gets teary eyed and misses brother.
Rudraksh and Saaransh feels like heaven in their new companionship
Both Rudraksh and Saaransh felt like they are in heaven in their new paradise where Saaransh loves Rudraksh just like brother Rajeev.
On the other side Prisha is teary as she is all set to get hanged to death.
Will Prisha die before uniting with Saaransh and Rudraksh?
Let's wait and watch for the upcoming twist in Rudraksh Prisha and Saaransh's life.
Latest Yeh Hai Chahatein Updates