Kundali Bhagya Latest News: Preeta as Karan's legal wife throws shocking papers on Mahira's face (Latest News)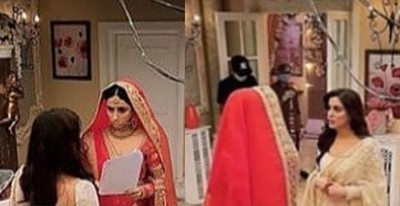 Kundali Bhagya Latest News: Preeta introduces herself as Karan's legal wife to end Mahira game
ZEE top TRP show Kundali Bhagya is up for biggest U-turn in Karan and Preeta's life when Karan is marrying Mahira.
Karan confronts Preeta and unveils his hate for her that now a big twist will come when Preeta decides to speak up.
Preeta and Kareena have a major confrontation where Preeta reminds Kareena that our Kundali decides our Bhagya (destiny) and no one can change her Bhagya.
Preeta gets in action mode and confronts Mahira just before Mahira and Karan have to take final wedding rounds and follow rituals.
Preeta replaces Mahira in wedding to marry Karan
Preeta turns the table against Mahira when she introduces herself as Karan's legal wife.
Mahira is stumbled to see the papers which Preeta throws at her face.
Preeta will show Mahira her real place while now Mahira will give up on Karan and thus Preeta will replace Mahira in wedding mandap to marry Karan.
Karan and Preeta's wedding is now getting more and interesting in Kundali Bhagya.
Stay tuned to Serialgossip.com for more updates and latest news of top TV shows.
Latest Kundali Bhagya Updates