Kasauti Zindagi Ki 2 Shocking news! Prerna Sneha to die in fire Bajaj helpless (Upcoming Twist)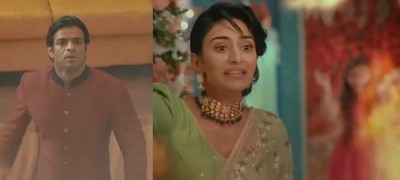 Kasauti Zindagi Ki 2 Shocking news! Prerna Sneha to die in fire Bajaj helpless
Popular TV series Kasauti Zindagi Ki 2 is going to see high time in the upcoming story when Ronit and Shivani's engagement ceremony is announced.
Bajaj and Prerna are not in the favor of the marriage but they agree for Shivani's happiness.
Anurag and Prerna's daughter Sneha aka Shamita on the other hand attends the function as her mother is assigned decorator work in Bajaj mansion.
Prerna spends lovely time with Shamita while being unaware of the girl being her daughter.
Prerna's destiny once again puts her in danger when suddenly the fire catches Bajaj mansion and Prerna along with Sneha get trap in the deadly fire.
Bajaj fail to save Sneha
Bajaj Prerna and Sneha the trio are still stuck amid the deadly fire that Prerna calls for help.
Bajaj rushes to help Prerna but Sneha aka Shamita is badly trapped in between the burning flames of fire.
Bajaj will be able to save the little girl or there will happen any tragedy in Kasauti Zindagi Ki 2.
Stay up to date with Serialgossip.com for popular top TV shows and Hindi serial.
Latest Kasauti Zindagi Ki 2 Updates