Kumkum Bhagya: Shocking kidnapping to mess up Ranbir Prachi's wedding, Rhea's new plan (Upcoming Twist)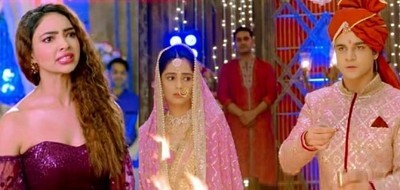 Ranbir (Krishna Kaul) and Prachi's (Mugdha Chaphekar) wedding to see more drama ahead in Kumkum Bhagya
The popular Hindi TV serial Kumkum Bhagya is looking forward to see more drama and thriller in Ranbir and Prachi's wedding.
Earlier seen how Prachi swaps Maya to marry Ranbir when they both make Maya unconscious.
Where Rhea is getting jealous of Ranbir marrying Maya, Aaliya comes up with her dirty plan.
Aaliya is going to swap Rhea with Maya being unaware of Prachi already swapped Maya.
Aaliya got her goons to kidnap Maya aka Prachi and this is how the biggest twist in the story will come forth when the shocking kidnapping will mess up Ranbir and Prachi's wedding.
Ranbir and Prachi's life in death danger
The time has arrived when Ranbir and Prachi will finally be getting married.
However, Ranbir and Prachi are not going to get easily united because Rhea has a new plan of swapping Prachi while the kidnappers are on the way.
What more is up to come is worth to watch ahead.
Stay tuned to Serialgossip.com for more updates and latest news of top TV shows.
Latest Kumkum Bhagya Updates