Ishq Mein Marjawan 2: Vansh Ridhima's face off over Red colour of love and betrayal (Upcoming Episode)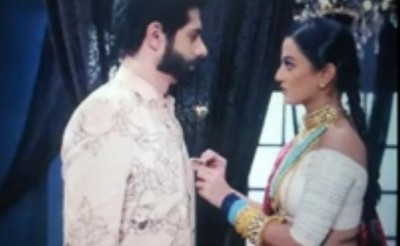 Ishq Mein Marjawan 2: Vansh (Rrhaul Sudhir) Ridhima's (Helly Shah) face off over Red colour of love and betrayal
The upcoming episode of Colors popular serial Ishq Mein Marjawan 2 will showcase interesting drama.
Vansh has made a mysterious comeback with lots of secrets in his heart.
It seems Vansh was secretly keeping eye on Ridhima where he has learnt her entire past story.
Vansh hints Ridhima over the same and also asks her to shoot herself if she has deceived him.
Ridhima is much tensed with Vansh's harsh stroke of words.
Vansh refuses concern while Ridhima pose love
As per the latest promo, Ridhima is seen in Red Saree all decked up as Mrs Vansh Raisinghania.
Vansh makes Ridhima wear red glass bangles where few bangle slide in her hand and fe breaks and hurts Ridhima.
Vansh does not show any concern for Ridhima where he reveals that Red is the colour of hatred and cheat while Ridhima pose Red as the colour of love.
Keep tuned to know what happens next in serial IMM2.
Latest Ishq Mein Marjawan 2 Updates