Gum Hai Kisi Ke Pyaar Mein: Virat Sayi and Samrat Pakhi's marriage in same mandap (Upcoming Story)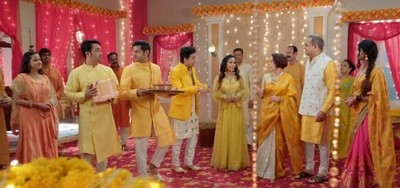 Gum Hai Kisi Ke Pyaar Mein: Virat Sayi and Samrat Pakhi's marriage in same mandap
The upcoming episode of Star Plus new serial Gum Hai Kisi Ke Pyaar Mein will showcase interesting twist.
It seems Virat has returned back to attend Samrat and Pakhi's wedding.
Virat is going to get biggest shock of his life when he gets to witness Pakhi.
On the other side Jagtap gets Sayi kidnapped in the absence of Virat taking advantage of the situation.
Sayi is in danger where Jagtap is all set to marry her.
Kaku's speech turns true for Virat and Samrat
On the other side Virat's Kaku also wishes to get Virat married within two days time in Samrat's wedding mandap too.
Who knew Kaku's speech will come true as destiny is all set to get Virat married to Sayi on the same day when Samrat gets married to Pakhi.
Let's see how the storyline proceeds further post marriage.
Latest Gum Hai Kisi Ke Pyaar Mein Updates