Shaadi Mubarak: Kusum Preeti turns roadblock in Nandini Keertan reunion (Upcoming Story)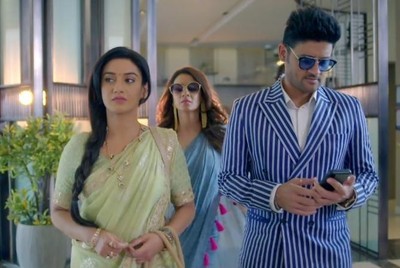 Shaadi Mubarak: Kusum Preeti turns roadblock in Nandini Keertan reunion
The upcoming episode of Star Plus serial Shaadi Mubarak will showcase interesting twist.
It seems Nandini and Kusum have met where the duo had cat fight.
On the other side Nandini and Preeti have also met where Nandini hates Preeti being with Keertan.
Nandini has selfish motives behind marrying Keertan once again using her son Arjun.
Arjun is innocent who loves father KT but unaware of his mother Nandini's selfish motives.
Nandini stressed to face Keertan
On the other side Kusum and Preeti stops Nandini and calls Keertan to take Nandini's class.
Nandini cannot reveal her face to KT where she wants to runaway and wants to marry KT by hook or by crook.
What will Nandini do on facinf KT?
Keep reading serialgossip.com
Latest Shaadi Mubarak Updates