GHKKPM: Devyani regains memory to expose Chavans crime story (Latest News)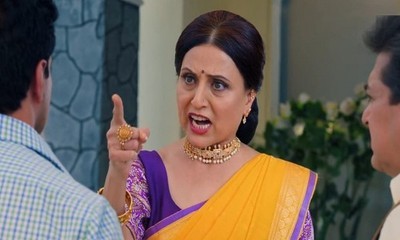 Ghum Hai Kisi Ke Pyaar Mein (GHKKPM): Devyani regains memory to expose Chavans
Star Plus TV serial Ghum Hai Kisi Ke Pyaar Mein latest story will see Devyani regaining her lost memory.
Sayi visits Pulkit's house when she faces the huge shocker meeting Pulkit's wife Madhuri.
Sayi realizes that Pulkit betrayed Devyani and married Madhuri while Devyani is still waiting for him.
Sayi decides to wrap up the matter and focus on her studies.
However, everything changes the moment Devyani sees Pulkit.
Sayi and Devyani come across each other when Devyani mistakenly sees Pulkit's photo and there she recognizes him.
Virat and Sayi take a decision
The major revelation leads to another revelation of Chavan's criminal past.
Consequently, how Virat and Sayi will bring Pulkit and Devyani together after Devyani exposes the real story behind her broken marriage and how Chavans are responsible for it.
Keep reading SERIALGOSSIP.COM for the new and latest updates.
Latest Ghum Hai Kisi Ke Pyaar Mein Updates