GHKKPM: Pakhi brainwashes Virat, Virat breaks up with Sayi (Upcoming Episode)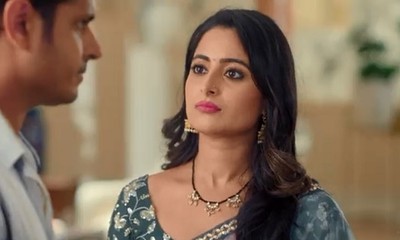 Ghum Hai Kisi Ke Pyaar Mein (GHKKPM): Pakhi brainwashes Virat, Virat breaks up with Sayi
In the popular TV show Ghum Hai Kisi Ke Pyaar Mein, a lot is happening in Virat and Sayi's life after Sayi's big step of uniting Devyani and Pulkit.
The family gets on loggerheads when the truth is revealed.
Meanwhile, Pakhi has started to brainwash Virat so that Virat doesn't doubt her hand behind the letter or Bhavani's conspiracies.
Everything comes in Pakhi's favour this time as Virat decides to give a dire punishment to Sayi if she really got Pulkit and Devyani married.
Virat and Sayi's teary separation
The upcoming track will see the unfortunate separation of Virat and Sayi.
As Pulkit and Devyani get married, Virat confronts Sayi and gets into a heated argument.
The deteriorating circumstances lead to the teary separation of Virat and Sayi when angry Virat breaks up with Sayi.
So, what will happen next in the show?
Keep reading entertainment news website Serialgossip.com for every day update and the latest news.
Latest Ghum Hai Kisi Ke Pyaar Mein Updates