Anupama: Advait give life lessons to Vanraj Kavya and wedding gift (Latest Spoilers Alert)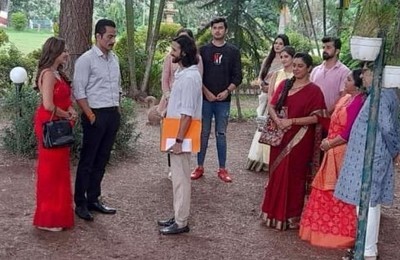 Anupama: Advait give life lessons to Vanraj Kavya and wedding gift
The upcoming episode of Star Plus popular serial Anupama will showcase an interesting twist and turn.

It was earlier seen that Vanraj and Kavya gets married but Advait failt gift them.
Hence Vanraj Kavya were about to leave the resort when he plans to give them a good journey back home.
Thus Advait makes sure Vanraj Kavya's car is decorated like a newly married couple.
Also Advait gives life lessons to Vanraj Kavya asking them to stay happy and not worry Anupama.
Vanraj Kavya decides to obey Advait's instructions
Hope Vanraj Kavya obeys Advait's instructions.
Anupama Baa are happy with Advait being clean and friendly with everyone.
It would be interesting to see what happens next on the show.

Stay tuned to popular entertainment website serialgossip.com
Latest Anupama Updates