Yeh Rishtey Hai Pyaar Ke Climax: Meenakshi to die saving Mishti's life (Upcoming Twist)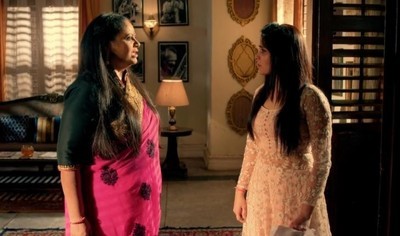 Yeh Rishtey Hai Pyaar Ke Climax: Meenakshi (Rupal Patel) to die saving Mishti's (Rhea Sharma) life
Star Plus serial Yeh Rishtey Hai Pyaar Ke will showcase interesting twist and turn.
It was earlier seen that Meenkashi always tried to separate Abeer and Mishti.
Further Meenakshi also forced Kuhu for surrogacy which led to major conflict in Abeer Mishti and Kuhu Kunal's relations.
However Abeer and Mishti managed to sort out all the things.
Finally Abeer and Mishti are happy with their new baby and Meenakshi is also with the heir of the family.
Meenakshi has lost her son Abeer forever but Meenakshi wants to rectify her mistake.
Abeer shocked to see Meenakshi in pool of blood
During the function some wooden stick was about to fall on Mishti.
Meenakshi witness the same and risks self life and saves Mishti.
Will Meenkashi die as she is in the pool of blood leaving Abeer shocked?
Keep tuned to know what happens next on the show.
Latest Yeh Rishtey Hai Pyaar Ke Updates