GHKKPM: Bhavani push Pakhi in Virat's bedroom (Upcoming Twist)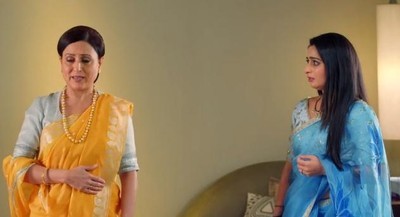 Ghum Hai Kisi Ke Pyaar Mein (GHKKPM): Bhavani push Pakhi in Virat's bedroom
The upcoming episode of Star Plus popular serial Ghum Hai Kisi Ke Pyaar Mein will showcase an interesting twist and turn.

It was earlier seen that Sayi does not keep quiet to save Virat's esteem and she exposes him and Pakhi before entire Chavhan family.
Ashwini tries to calm Sayi down and asks them to sort out their issue in private but Sayi cannot live dual life and tolerate wrong.
Sayi does not keep quiet and unfolds entire history of Virat and Pakhi.
Post this major drama Sayi leaves for college and does not return home.
On the other side Pakhi behaves to be much upset and wants Virat to come and console her.
Virat tensed for Sayi an worries for her not Pakhi
However Virat is just worried for Sayi and is tensed for her.
Bhavani goes to console Pakhi and on knowing she is fasting she pushes Pakhi in Virat's bedroom.
How will Virat react now?
It would be interesting to see what happens next on the show.

Stay tuned to popular entertainment website serialgossip.com
Latest Ghum Hai Kisi Ke Pyaar Mein Updates