GHKKPM: Ninad's biggest step towards Sayi to jitter shock Family (Upcoming Episode)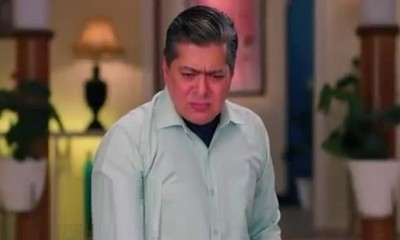 Ghum Hai Kisi Ke Pyaar Mein (GHKKPM): Ninad's biggest step towards Sayi to jitter shock Family
Star Plus TV serial Ghum Hai Kisi Ke Pyaar Mein is looking forward to another amazing change in the storyline.
Because Sayi took the money and didn't arrive home on time, the family takes her on the radar.
Pakhi puts some nasty allegations on Sayi but when she reveals the truth and gives a wonderful gift to Ninad, everyone's mouth shuts up.
Sayi's harmonium to Ninad gets him emotional while Bhavani also gets surprised.
Interestingly what happens next is what brings another huge shocker to the family.
Ninad and Sayi turn father and daughter
The latter gets so overwhelmed with the gift that he blesses Sayi as his daughter, not daughter-in-law and this is where the family stands stunned to the core.
Ninad Sayi's father and daughterly bond prick Pakhi the most because this is what she never expected.
While things are getting easy for Sayi to handle, will Pakhi let her relationship bond with the family or she will create new problems?
Make sure you follow us at SerialGossip.com so you don't miss the next big twists.
Latest Ghum Hai Kisi Ke Pyaar Mein Updates